Hundreds of people donated thousands of supplies to local k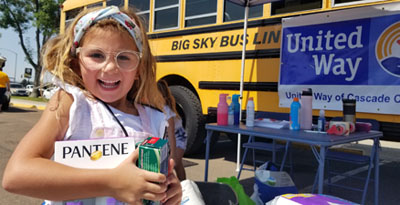 ids Thursday through United Way's 12th annual Stuff the Bus school supply drive.
Great Falls givers stuffed three school buses with 10,998 much needed items, including 295 backpacks, 2,037 notebooks, 1,028 packs of pens and pencils and 1,857 boxes of crayons, markers and colored pencils. An additional $4,500 was donated in cash and gift cards, which was used to buy additional supplies.
   Throughout Thursday, people and businesses brought supplies to yellow school buses, kindly donated by Big Sky Bus Lines, parked at Target, the north side Walmart and the main Peak.
   Roughly half of the supplies collected Thursday are donated by individual shoppers, but United Way also reaches out to businesses to do office supply drives. 
   This year, Alluvion, DA Davidson Company, Embark Credit Union, First Interstate Bank, First Lutheran Church, the Great Falls Voyagers, Montana Credit Union, Pacific Steel & Recycling, Pasta Montana, the Peak, Scheels and Wendt Advertising ran supply drives. Walmart and Target also donated gift cards.
   As the event has grown, United Way has expanded the number of children who receive supplies. Supplies from Stuff the Bus have been distributed through a dozen nonprofit organizations that work with children like the Boys and Girls Club, the Great Falls Rescue Mission and the Great Falls Children's Receiving Home. 
   Supplies and living essentials will be given to students through Great Falls Public Schools and with the help of the Department of Family Services, school supplies and basic living essentials will be given to school-age children in foster care.
   Families who are in need of school supplies can go to Alliance for Youth's Hope Fest on Aug. 20, from noon to 6 p.m. at 3220 11th Ave. S. The nonprofit will be giving away 500 stuffed backpacks on a first come first served basis, but will also have free food, free hygiene products, haircuts and more.
   People who weren't able to give Thursday, can drop off items at United Way's office, which is inside Loenbro at 1900 32nd Ave. NE, or donate either click here to give online or by mail at PO Box 1343. To buy a stuffed backpack costs $25.