Shannon Hoiland has volunteered to chair United Way of Cascade County's 2022 fall fundraising campaign. This campaign marks the organization's 53rd year as a local nonprofit.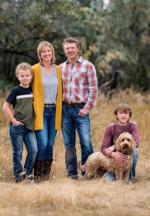 United Way fights for the health, education and financial stability of everyone in Cascade County. Through its annual campaign, United Way awarded grants to 30 local nonprofit programs that will help 31,133 local people this year. 
In addition to working as the Great Falls Market President for Bravera Bank and co-owning a landscaping business with her husband, Hoiland volunteers in many different capacities throughout the Electric City.  Hoiland is the Benefis Health System board vice chair and serves on the Great Falls Development Authority and High Plains Financial boards. In the past, she's served on other boards including the Montana School for the Deaf and Blind and Big Brothers Big Sisters. 
"As a longtime volunteer and donor for the United Way of Cascade County, it's important to me that I'm involved in an organization that I hold a true passion for," Hoiland said. "I started donating to the United Way in high school and have seen firsthand how these funds benefit our local community members. I am proud to serve as the campaign chair and share my enthusiasm for the organization with future donors and recipients."
United Way President Gary Owen said Hoiland's strong leadership and dedication to the community is especially critical to the United Way campaign.
"We are so fortunate to have Shannon Hoiland leading our campaign," Owen said. "Knowing the impact of our work, she brings passion and hard work to leading the team of volunteers, board members and staff that will build a successful campaign."
Joining Hoiland as the United Way campaign vice chair is City Motor Company President Cooper Thomas. 
"Myself and the City Motor team really believe in United Way's mission," Thomas said. "Its wide reach and impact are paramount to the health and success of our beloved community and we would love to help grow the campaign's success year after year."
United Way's annual campaign connects with area employers to donate individually and on behalf of their businesses. A majority of these 3,000 donors gave less than $100 each, donating only a few dollars from each paycheck. 
Last year, United Way broke a campaign record raising $1,236,575 to invest in local nonprofits and community impact initiatives. This year's campaign kicks off Sept. 1. 
For its annual campaign, United Way volunteers reach out to area employers to invite individuals to give and donate money on behalf of their companies. In 2022, more than 3,000 people gave to United Way, most donating less than $100 by taking a few dollars out of each paycheck to help their neighbors.
Donations can be sent to United Way at PO Box 1343, Great Falls, MT 59403 or donate online by clicking here.